Everman Animal Shelter
3961 Bluebell Street
Everman, Tx
Phone: 817-561-5495
Fax: 817-293-0758
evermananimals@yahoo.com
Adoptable Pets
The animals shown below are currently available for adoption. Steps for adoption:
Fill out adoption application
After approval, sign sterilization contract
Pay adoption fee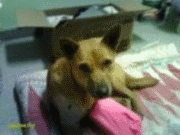 Hi---My name is Tommy. I am currently living at the Everman Animal Shelter. I was found by some very nice people around Christmas Eve. Thomas the ACO came and picked me up and took me to the shelter. I had a severely broken leg and several bite marks on me. I was attacked by another dog. I was taken to the vet, had surgery and now I am back safely at the shelter. I will recuperate for several weeks. Then, I may be up for adoption. While I am getting better I would love to have some visitors and possibly some treats. So come and see me and all the other animals soon. Bye now.