Current Job Opportunities: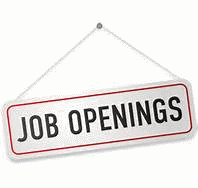 NOW HIRING:
The City of Everman currently has1 (One) opening for a part time ACO

Part time; Animal Control Officer
Must have a valid Driver's License.
Must be Bondable.
Must have a High School Diploma or Equivalent.
Must be able to pass a Physical, Drug Screen and back ground check.
Must have the ability to handle and Control Animals.
Must be able to work weekends and holidays.

(Please come into City Hall for to fill out Application.) 212 N. Race St. Everman Tx, 76140
(817)-293-0525 Monday - Friday 8am to 5pm.