Everman Police Department

404 W. Enon
Everman, TX, 76140
817-293-2923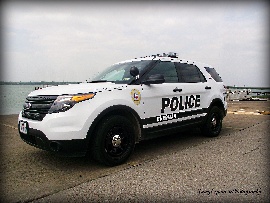 The City of Everman, like most communities, has recently had a rash of daytime break- ins. While the police try to remain on patrol in residential areas as much as possible, it is not always possible for them to be everywhere. Because of this, it is important for each of us to look out for our neighbors! "See It, Hear It, Report It", is the theme that I adopted years ago. Now, more than ever, it is important for all of us to do just that. If you see something that may seem out of the ordinary, don't hesitate to call the police. Get out and get to know your neighbors! Remember, we are all in this together!
- Randy Sanders, Director of Emergency Services

Sex Offenders
It is unfortunate that our society today has to be concerned with sexual predators. Because of this, the Everman Police Department would like to provide you access to sexual offenders registered in the City of Everman, as well as the State of Texas. Please visit the Sex Offender Database at https://records.txdps.state.tx.us/dps_web/Portal/index.aspx

Alarm Permits
Requirements: The City of Everman has permitting requirements for all residential and commercial alarm systems. Everman Ordinance No. 491 requires annual permits of all residential or commercial alarm systems and establishmes a fee structure for alarm permits. Applications for permits are available online and at the Everman Police Department, located at 404 W. Enon Ave. Everman, TX 76140.
The annual registration fee is twenty dollars ($20.00) for residential and for commercial/business alarm system permits. It is the permit holders responsibility to advise the Everman Police Department of any changes made to your account, such as cancellation of alarm permit or any key holder information. Any and all changes will need to be made in qriting, either my mail, fax or email. The Permit holder shall pay a false alarm fee of fifty dollars ($50.00) for each notification from any alarm system within a twelve-month period that is in excess of five (5) alarms.
Alarm Permit duration; renewal: A permit shall expire one (1) year from the date of the issuance, and must be renewed annually by submitting an updated application and permit fee to the police chief. The city shall attempt to notify each permit holder of the need to renew at least (30) days before the expiration of the permit holders permit. However, it is the responsibility of the permit holder to submit an application prior to the permit expiration date. Failure to renew will be classified as use of a nonpermitted alarm system and citations may be issued.
Alarm Billing: The City of Everman requires all active alarm systems within the City limits to have a permit with the city. Residents and business owners will be able to pay and register by mail or in person at the police station.
Any Questions concerning alarm permits, alarm information or alarm bills please contact Everman Police Department by calling
(817) 293-2923. For more information, please view the City of Everman Alarm Ordinance at the link below. You may download the Alarm Permit Form Below.

Mail check to:

City of Everman
ATTN: Alarm Permit Fee
404 W. Enon Ave.
Everman, TX 76140
Alarm Permit

Applicacion De permiso para alarma


Paying by mail please allow 3 business days for permit issuance.
Towed Vehicle Information:
Recovering Impounded Vehicles
Impounded vehicles management is performed for the City of Everman by the privately owned company Beard's Towing. To recover your towed vehicle, you can visit the Everman Police Department located at 404 W. Enon Ave Everman, TX 76140. YOu will need to bring a valid drivers license and proof of insurance for the vehicle. Once all forms are verified, you will recieve a release form to take to Beard's towing.
Beards Towing company;
5033 Sun Valley Drive Fort Worth, TX 76119
(817) 478-2001
1 (800) 478-2003 Toll Free